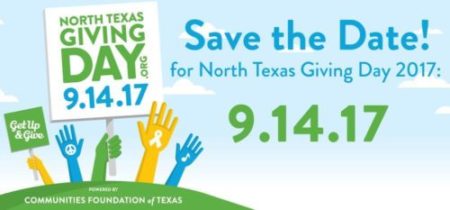 2017 North Texas Giving Day
Thursday, September 14, 2016

6:00 a.m. to midnight
This year, on Thursday, September 14, 2017, Retina Foundation of the Southwest is participating in Communities Foundation of Texas's ninth annual North Texas Giving Day, a one day online giving extravaganza.
Last year, you helped us raise a total of $23,250 from 68 gifts in just 18 hours! When you donate to the Retina Foundation on September 14, 2017, your dollar goes further with the help of matching gifts and bonus funds from Communities Foundation of Texas. We invite you to join the movement and help us reach our goal of $35,000 on September 14.
Thank you for helping make a difference in the lives of individuals living with macular degeneration, pediatric eye disorders, and inherited eye diseases, such as retinitis pigmentosa. With your help in 2017, we can continue our mission to prevent vision loss and restore sight.