February 2020 Lecture
The "Keeping an Eye on Innovation" Lecture Series, sponsored by Dr. and Mrs. William Hutton, was created to educate the general public on cutting-edge research from renowned leaders in age-related macular degeneration, pediatric eye disorders, and inherited eye diseases. These lectures are intended for a lay audience.
To RSVP for an upcoming lecture (now held virtually due to COVID-19), please contact Amy Lobner at 214-363-3911, ext. 102 or alobner@retinafoundation.org. To learn more, click here.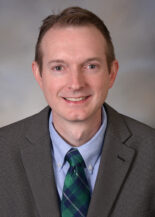 Dr. Robert F. Mullins (University of Iowa)
Title: Supply and Demand: The Contribution of Blood Vessel Damage to Age-Related Macular Degeneration
Date: Wednesday, February 12, 2020
Location: Dallas Country Club